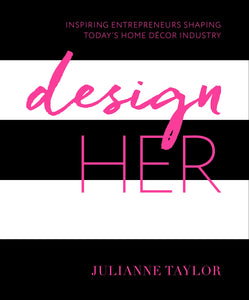 Looking to be inspired by women in the home decor industry?
The author Julianne Taylor, Founder and Creative Director of Taylor Burke Home, is thrilled to present her first book, DesignHER. Born from a desire to give back to rising women in the industry, this stunning coffee table book offers a behind the scenes look at stories of inspiring female entrepreneurs currently shaping home decor. A must read for design enthusiasts and anyone who has ever considered the path of entrepreneurship.
Jill Sorensen Lifestyle founder can be found inside. We are thrilled to be joining this group of talented and inspiring women.